"Seven days of disconnect to reconnect"
– e-MTBswissalps, your e-MTB journey Est 2018 –
HIGHLIGHTS
Morning Yoga to quiet your mind.
Daily different eBike rides to feel alive.
A glass of wine in a jacuzzi to end your biking day.
Home-made delicious dishes to treat your taste buds.
A stay in a wooden house settled in an Alpine Panorama.
Riding & Exploring
Dedicated to the pleasure of riding in a small group of 2 to 4 people, the "7 wonder days" is a tailor-made eBike or Mountain Bike experience. Each day we sit down with you to organize the best trail combination adapted to your riding level or your mood on that particular day. We have plenty of opportunities next to the chalet from very easy flowy paths to the highest ridable peak of Swiss Alps, Barrhorn, at 3600 meters above sea level!
You will also discover the sublime valleys close to our camp:
Zermatt valley with the iconic ride right in front of the Matterhorn
Aletsch UNESCO glacier trail
Binntal lost valley
Simplon pass with the Stockalper historical path
Crans-Montana infinite Plaine-morte singletrail
Moosalp unique balcony trail
And many more…
The area has such a density of beautiful rides to discover that it will fulfill all your expectations of the "7 wonder trail"!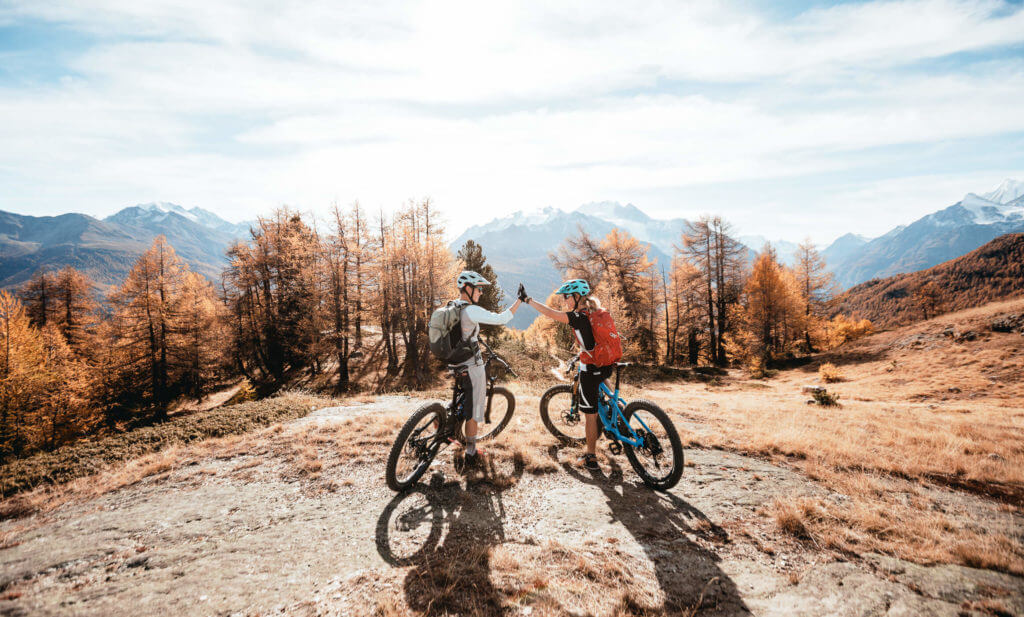 Wellness & Yoga
Each day starts with an optional yoga class to quiet your mind. A breakfast basket made of fresh local products is at your disposal to enjoy the start of the day at your own tempo. Once you're awake and fed, it will be time to put a leg over the saddle. You can choose between two different level riding options. The local guides will take you to discover some jewel trails and beautiful valleys. We will prepare take-away lunches for everyone. Although, If you prefer to take the day off,  you can enjoy the day at the camp.
When you get back from the bike tour, you can relax into the jacuzzi or the sauna whilst sipping a cup of tea or tasting a local beer. As the sun lowers, it will now be the time to enjoy a prepared dinner together, before tucking into your cosy wooden hut for a well-deserved night of rest. During the week, we will have one day off without any biking to rest, to relax your muscles, to enjoy a massage at the camp or to hike and discover the area.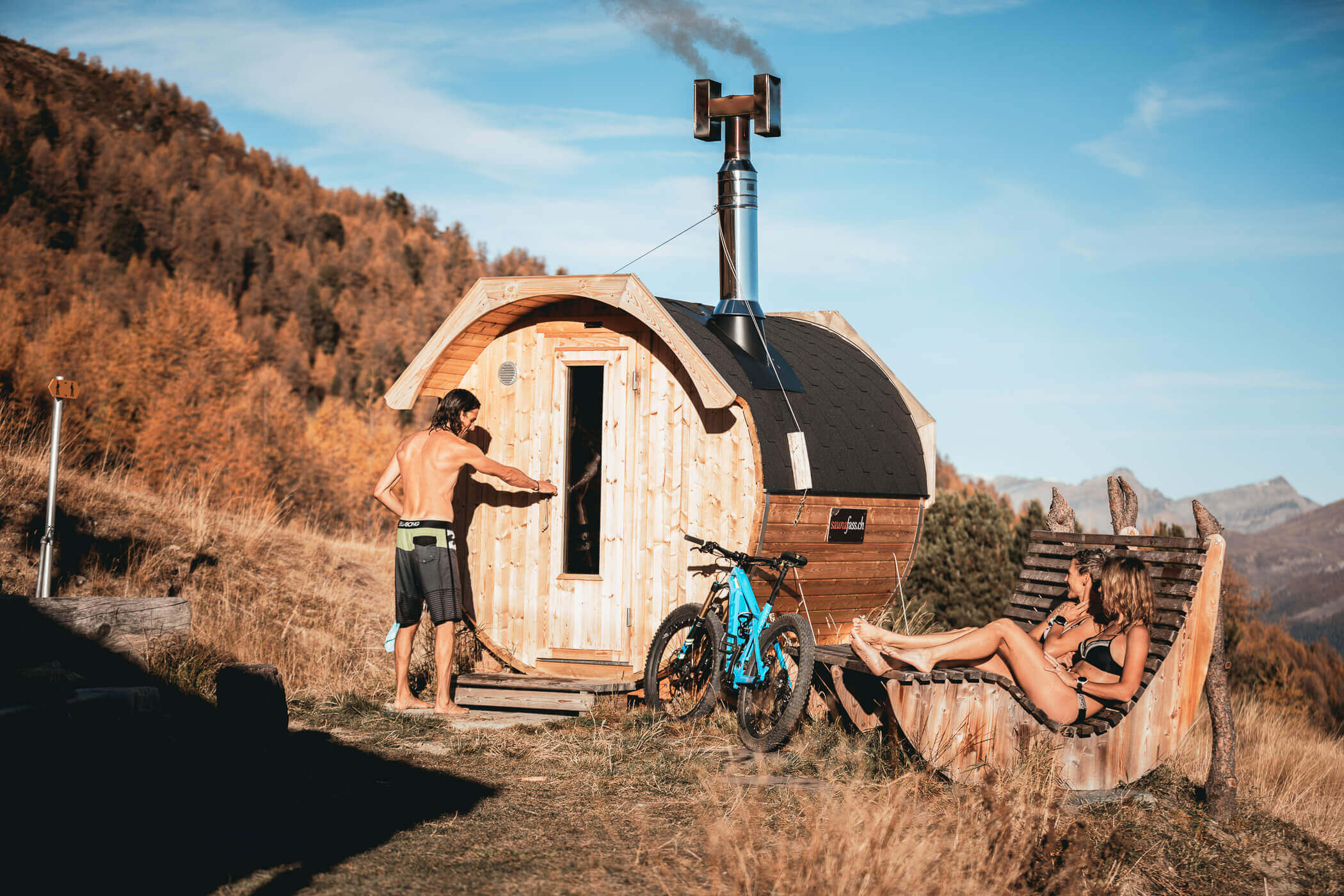 A unique place to stay
We will spend the seven days in a cosy wooden house on a plateau at 1200 m above sea level in Unterbäch right in the middle of the beautiful Alps. The place is composed of one big chalet with 4 places to sleep, two cosy sleeping wood barrels made for 2, a jacuzzi, a sauna, a meditation room, a place for making a fire and a dinner table. Everything is made for feeling quiet and relaxed when spending time there. It is 100 percent climate neutral. For each night you spend with us a tree is being planted by "plant for the planet".
The right place for disconnecting to better reconnect!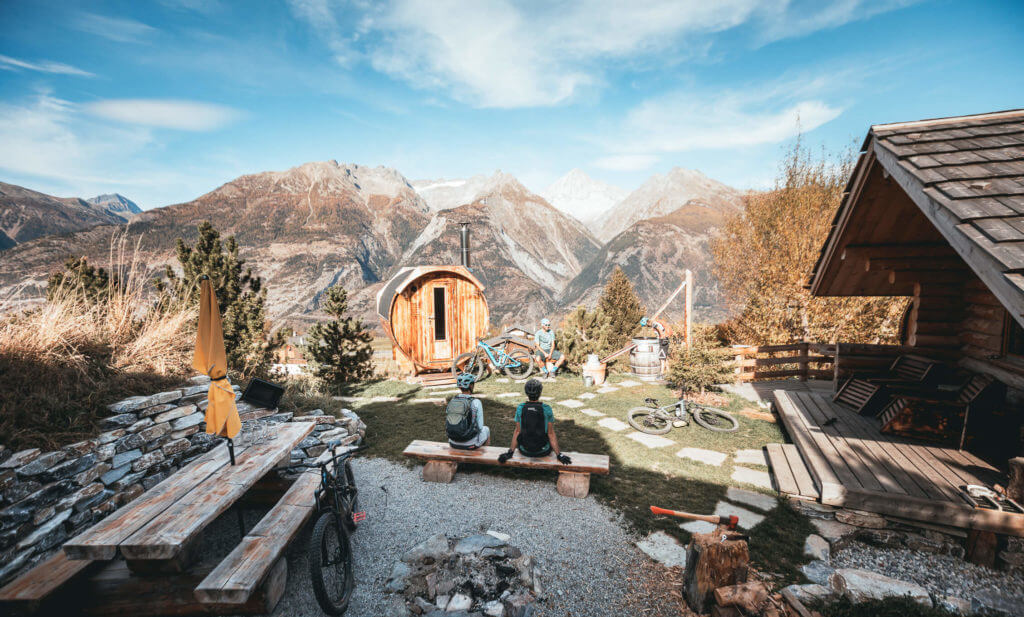 | | |
| --- | --- |
| Dates | From 20 to 26 July 2019 |
| Duration: | 7 days, 6 nights |
| Joining in: | Visp, Valais, Switzerland |
| Skill Level: | 2-4 fitness / 2-4 technical |
| Type: | eBike or Mountain Bike |
| Cost: | 1'800 Swiss Francs |
| Number of riders: | 6 riders |