FROM THE CRANS MONTANA GLACIER TO ALETSCH GLACIER BY EBIKE
From 06 to 10 of July 2022: ready to go !
From 31 of August to 04 of September 2022: sold out !
From 12 to 16 of September 2022
"A unique experience from glacier to glacier using the best singletrails of the Alps. An e-bike adventure made for flowtrails lovers to discover authentic villages, historic hotels, and preserved valleys

"
– e-MTBswissalps , your e-MTB journey Est 2018 –
HIGHLIGHTS
Ride above the Aletsch UNESCO glacier
Discover authentic alpine villages
Enjoy astonishing flowtrails
Relax in charming historical hotels
JOUR 0: RELAX ON THE BEAUTIFUL PLATEAU OF CRANS-MONTANA
You just arrived in Crans-Montana, a plateau with a view on the best known 4'000 meters peaks of the Alps. Matterhorn, Dent Blanche, Weisshorn, Zinalrothorn… Will you recognize all these mountains? Let's enjoy this first day in a magical place, take a walk or warm-up on the multiples singletrails you can find around.
JOUR 1: FROM THE PLAINE MORTE GLACIER TO THE THERMAL BATHS OF LOÈCHE
After the morning coffee, the day begins quietly with a climb…by gondola up to 2'900 meters! Time to observe the Plaine Morte glacier and its 360-degree panorama views. Then it's off for a first descent in a lunar atmosphere. The beautiful rolling singletrails give you the "smile". Time to climb up to an impressive balcony path. We are now into the alpine circle of Leukerbad. Trails, trails and more singletrails before a swimm, a jacuzzi and a hammam. Hummmmm so sweat! Are you ready to enjoy the local products in a typical building from 1636 ?
Distance cycled: 35 km
D+ : 1000 m
D- : 2650 m
Technical difficulty: 2
Physical level: 2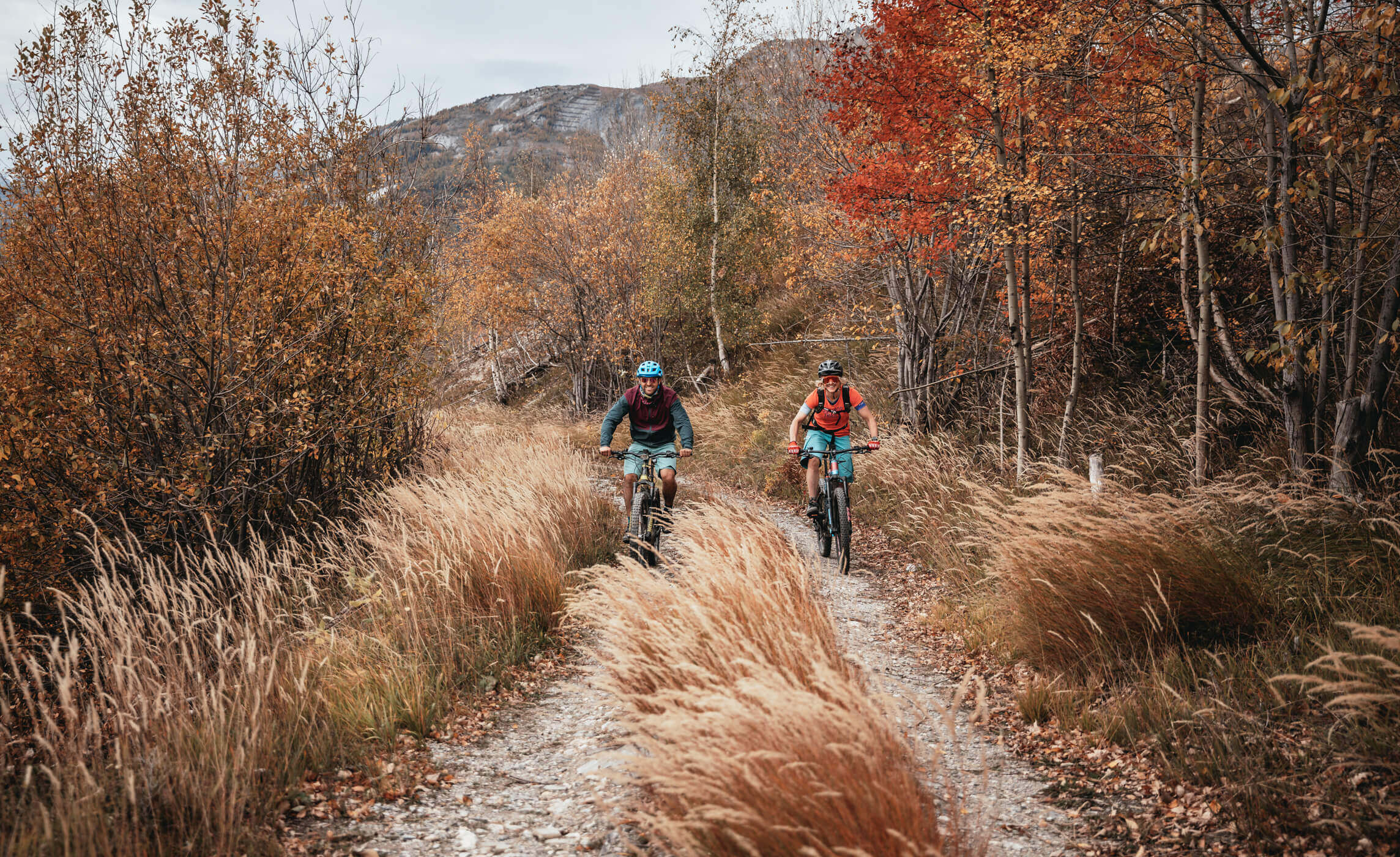 JOUR 2: SUBLIME FLOWTRAILS AND AN ARRIVAL AT THE MAGICAL LÖTSCHENTAL
A rich breakfast awaits you on the terrace. Boost your energy before leaving for a wonderful stage. The first kilometers we will ride through a large burned forest before taking a short cable car. That one will take us on one of the most beautiful flowtrails in the Alps. After this beautiful traverse, we will step into the wild Lötschental. An unbelievable view of the majestic peak of Bietschhorn accompanies us on balcony paths that lead us directly to the bottom of our historic hotel. A little walk take us discover the Tchäggätä, the monstrous figures characteristic of the local carnival. It is then time to enjoy the plurality of local culinary tastes during the dinner. Bon appétit!
Distance cycled: 45 km
D+ : 1800 m
D- : 2000 m
Technical difficulty: 2
Physical level: 2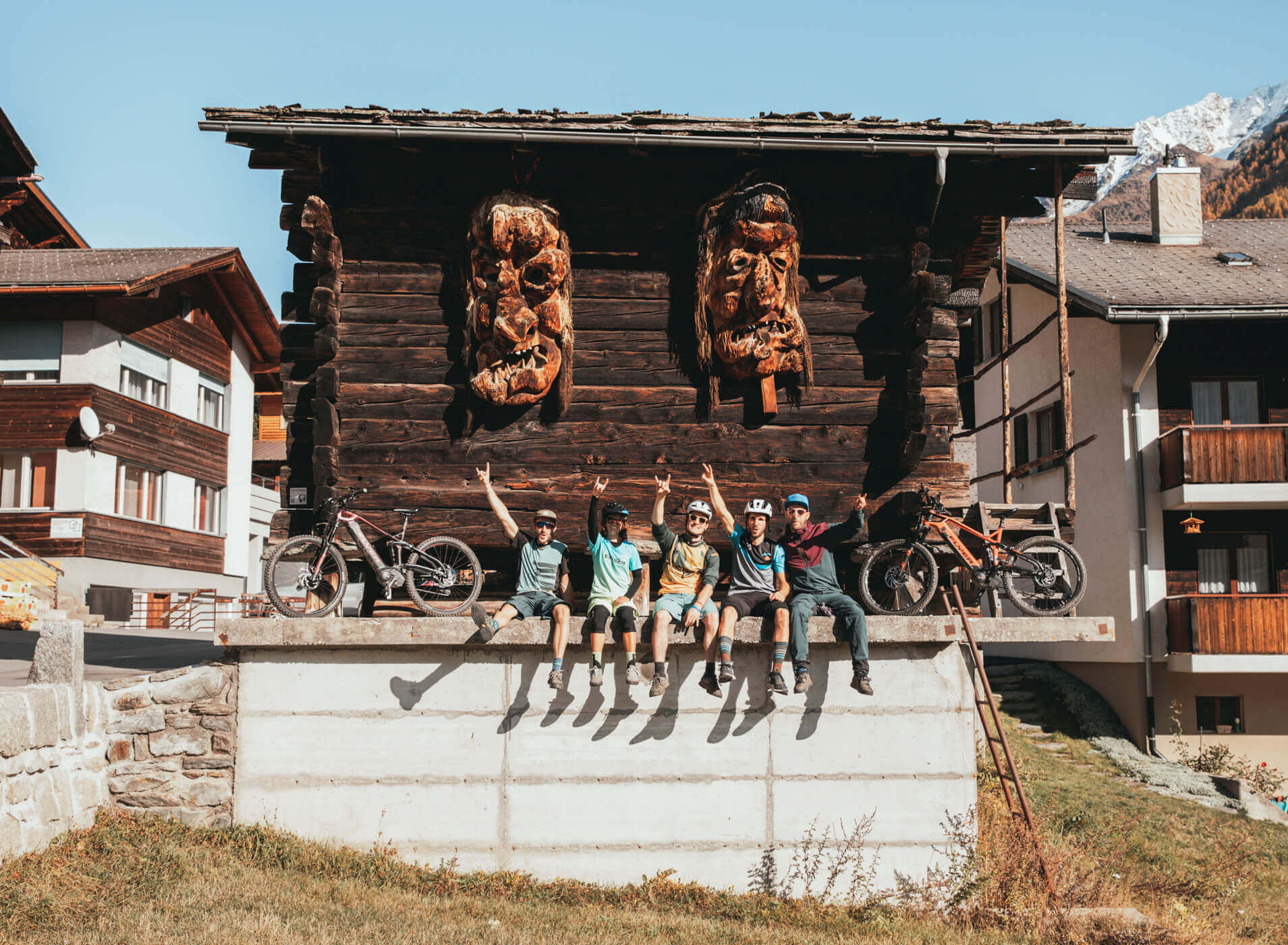 JOUR 3: A PANORAMIC TRAIN AND THE BINNTAL SINGLETRAILS
We will start the day with a series of singletrails before a ride…by train! A short trip that takes us to discover the mythical south side of the Lötschberg. We will get back on the bike to climb up towards a valley with preserved charm: the Binntal. After a challenging uphillflow, a playful descent will give you a "large smile" before sipping a beer on the terrace of our «Belle époque» Hotel. Do you feel the 19th century charm operating?
Distance cycled: 33 km
D+ : 1100 m
D- : 1350 m
Technical difficulty: 2
Physical level: 2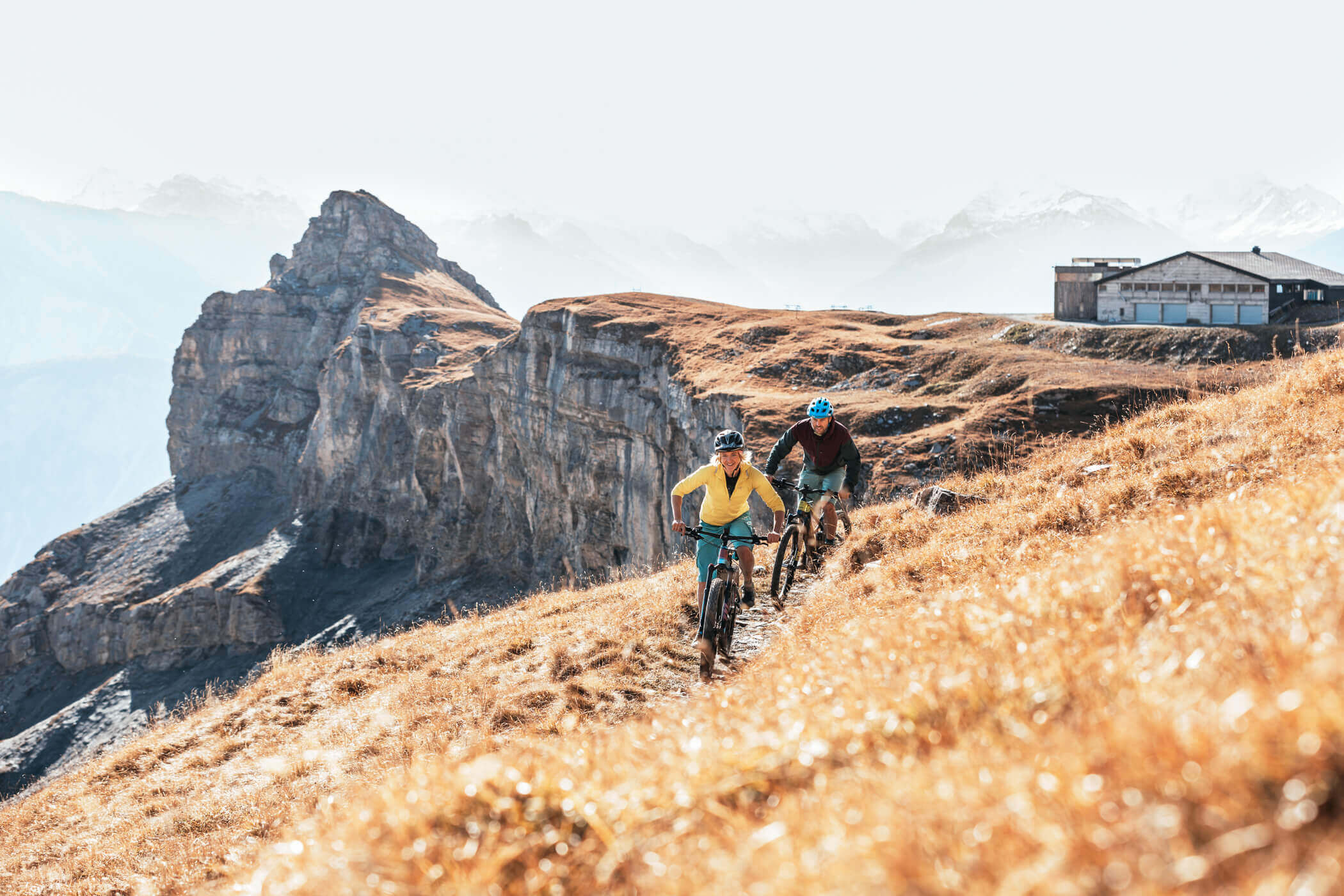 JOUR 4: THE MYTIC UNESCO GLACIER OF ALETSCH
After a short ride in the forest, we will head down into the valley on pedestrian paths. We are already on our way towards the largest glacier in the Alps which is a UNESCO World Heritage Site. We will spend some time enjoying this treasure of the Alps by riding on a super playful path overhanging it. What a magical moment! The trail leads us to a magical manoir in the middle of a preserved nature. Welcome to paradise!
Distance cycled: 50 km
D+ : 2400 m
D- : 1900 m
Technical difficulty: 2
Physical level: 2
JOUR 5: TIME TO ADMIRE ONE LAST TIME THE LONGEST GLACIER IN THE ALPS
After a coffee on the terrace, we will enjoy the last singletrails that will bring us back to the valley. With a smile still on our faces, it will be time to go back home with full of memories of an incredible alpine adventure!
Distance cycled: 10 km
D+ : 0 m
D- : 1200 m
Technical difficulty: 2
Physical level: 1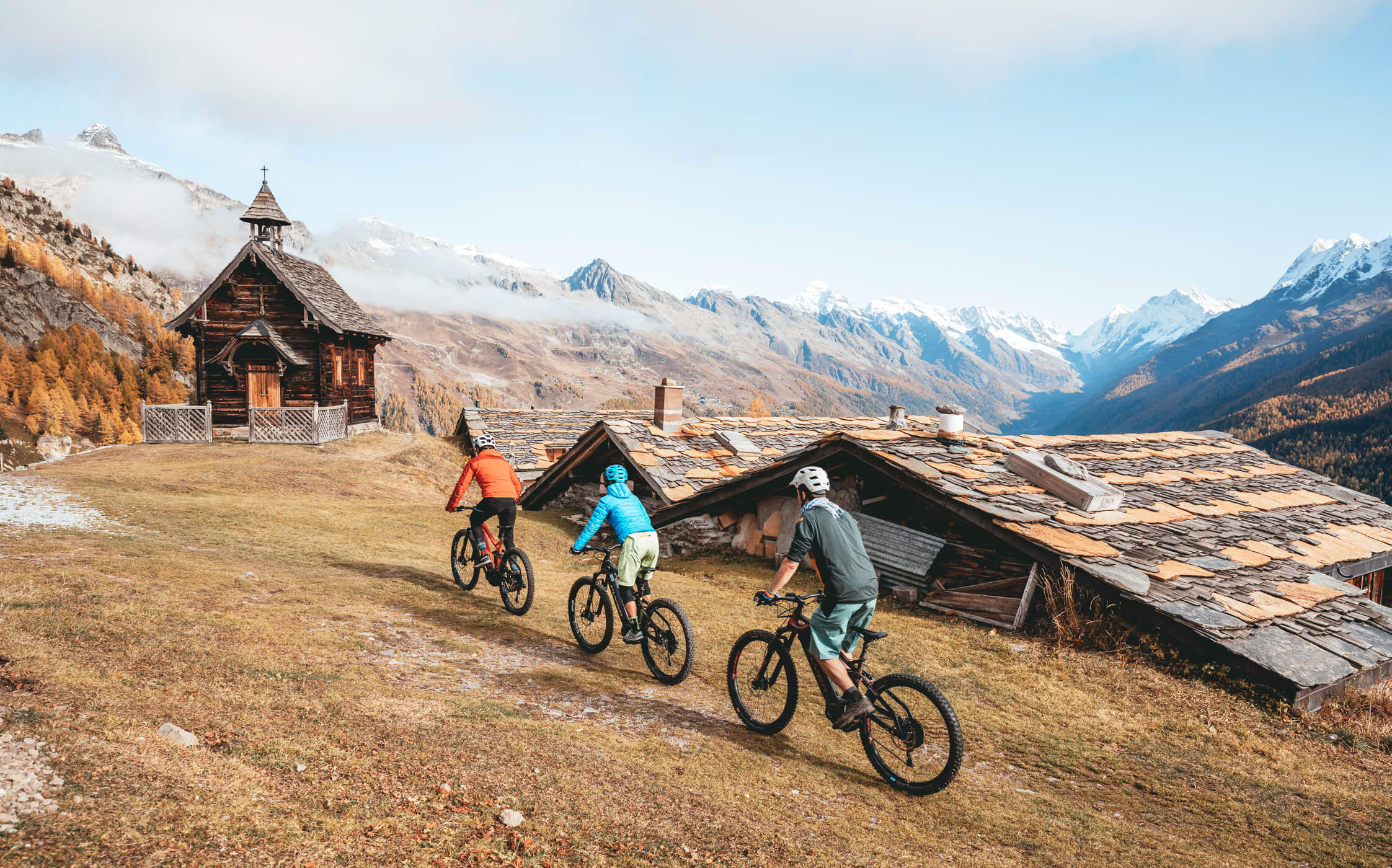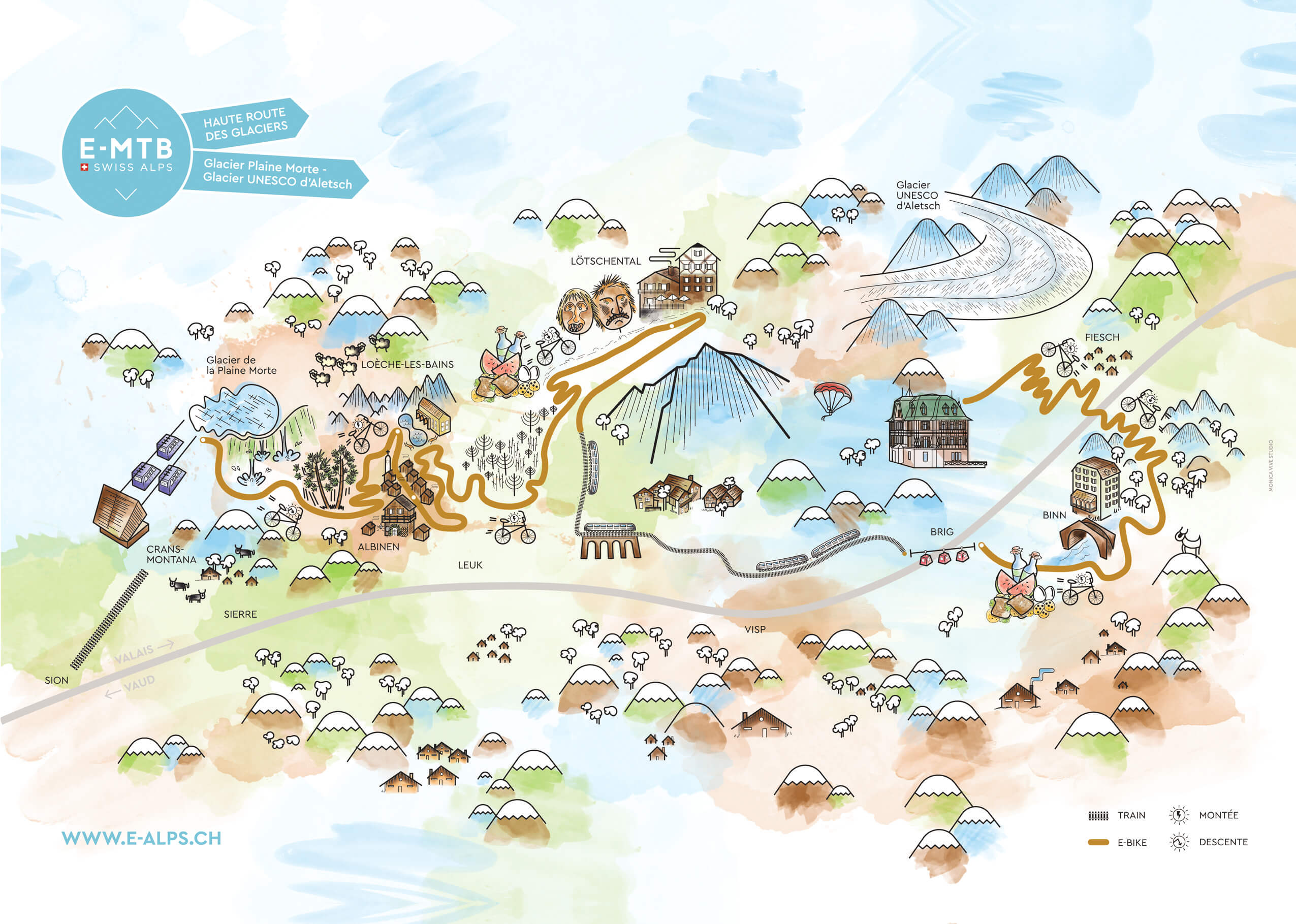 Dates

From 06 to 10 of July 2022: ready to go !

From 31 of August to 04 of September 2022: sold out !

From 12 to 16 of September 2022

Duration:
4 nights 5 days
Joining in:
Sierre, Valais, Suisse
Skill Level:
2-4 fitness / 2-4 technical
Type:
eBike
Cost:

 2750.- CHF e-bike included / 2500.- CHF without e-bike

Number of riders:

4 à 12 personnes