FROM VERCORIN TO ZERMATT BY EBIKE
From 23 to 26 of June 2022
From 21 to 24 of July 2022
From 18 to 21 of August 2022
From 01 to 04 of September 2022
From 22 to 25 of September 2022
From 13 to 16 of October 2022
"Ride easy road in stunning alpine scenery, sleep in charming accommodations and end up the trip admiring the unique Matterhorn. The Family&Friends ebike Haute Route is a journey to live with family or friends

"
HIGHLIGHTS
Ride along a turquoise lake.
Discover typical mountain villages.
Walk across a 2900m alpine path.
Enjoy a wellness touch.
Eat a succulent picnic in front of the 4000m peaks of the Alps.
DAY 1: FROM MOIRY EMERALD WATER TO THE IMPERIAL CROWN
Perched above the valley, the historic village of Vercorin is the ideal starting point for an alpine e-bike itinerary. After a coffee, it's time to go for a gentle climb in the Val d'Anniviers. The first goal is the turquoise water of Moiry Lake. The end of the lake is the ideal place for a picnic at the bottom of Moiry glacier. After a wonderful and comfortable road with views on five breathtaking 4,000m peaks, we arrive at the historical hotel Bella Tola. The time has come to relax at the hotel's spa. What a first day!
Distance cycled: 60 km
D+ : 2280 m
D- : 1960 m
Technical difficulty: 1
DAY 2: A HIKE IN THE MIDDLE OF 4000M PEAKS AND THE WILD TURMANNTAL VALLEY
This morning, we switch our bikes to walk across an alpine col, the Meidpass 2900m. After this walk, we will arrive at a preserved valley, the Turtmanntal. Another dream picnic in front of one of the majestic 4,000m peaks in the region, the Bishorn. Then we will take back again the bikes to head to the exclusive e-Alps cabin in Moosalp. Imagine a mountain cabin at 2'000 meters altitude with a Nordic bath&sauna with panoramic views. Welcome to Paradise!
Distance cycled: 10 km of hiking / 48km of ebike
D+ : 730 m of hiking / 1850 m of ebike 
D- : 460 m of hiking / 2000 m of ebike
Technical difficulty: 1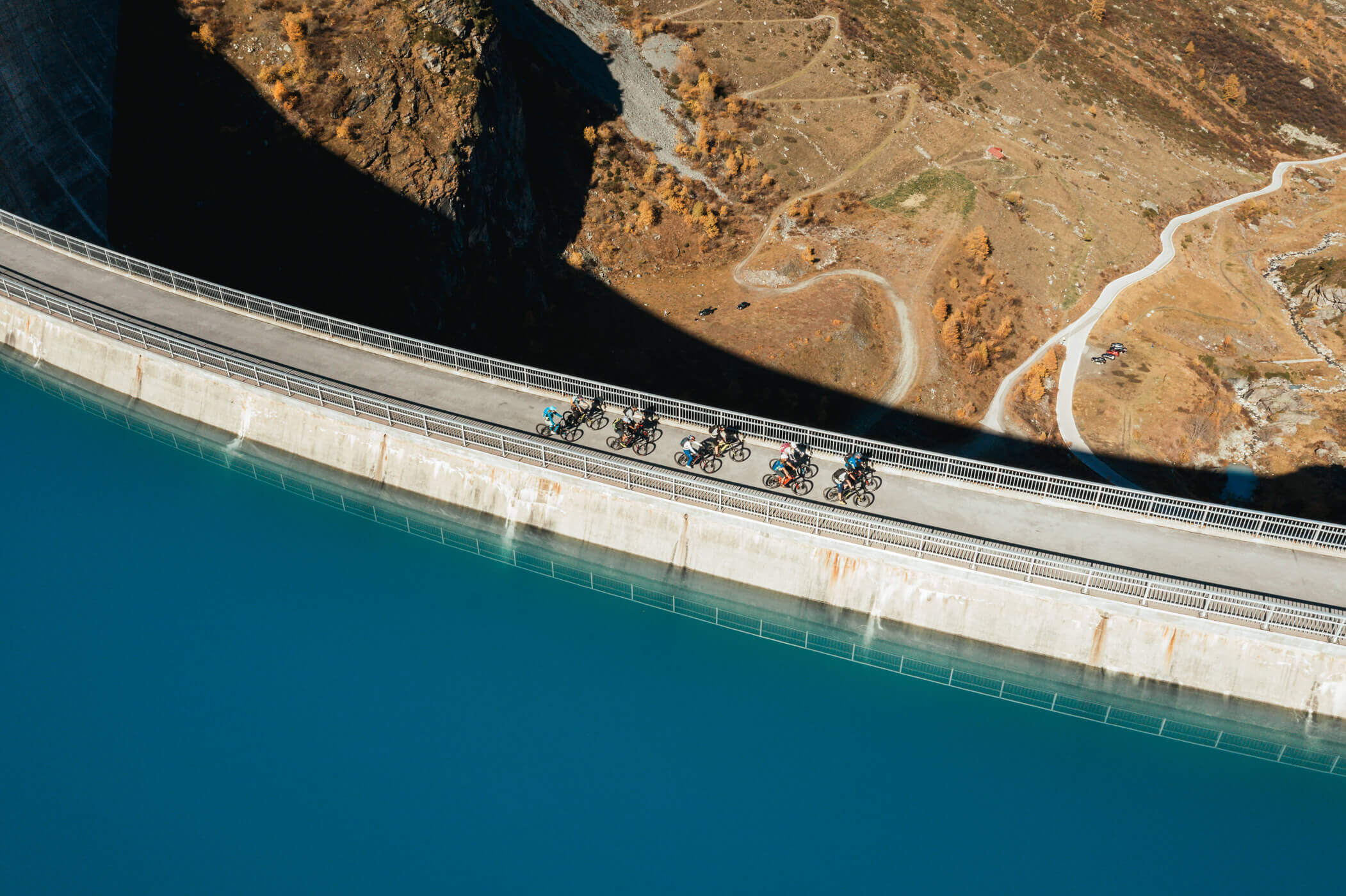 DAY 3: BREAKFAST IN THE HUT AND THE ICONIC OF THE MATTERHORN
After a breakfast at the terrace of the cabin, it's time to head to Zermatt valley. The 4'000m peaks of Saas Valley and the Weisshorn welcome us for a fun ride to Zermatt. Time to enjoy a balcony road in front of the world-famous Mattherhorn!
After a spectacular tour above the village, time to relax in the jacuzzi of our hotel just in front of the most spectacular mountain in the world!
Pinch yourself, you are not dreaming!
Distance cycled: 47 km
D+ : 1050 m
D- : 1500 m
Technical difficulty: 1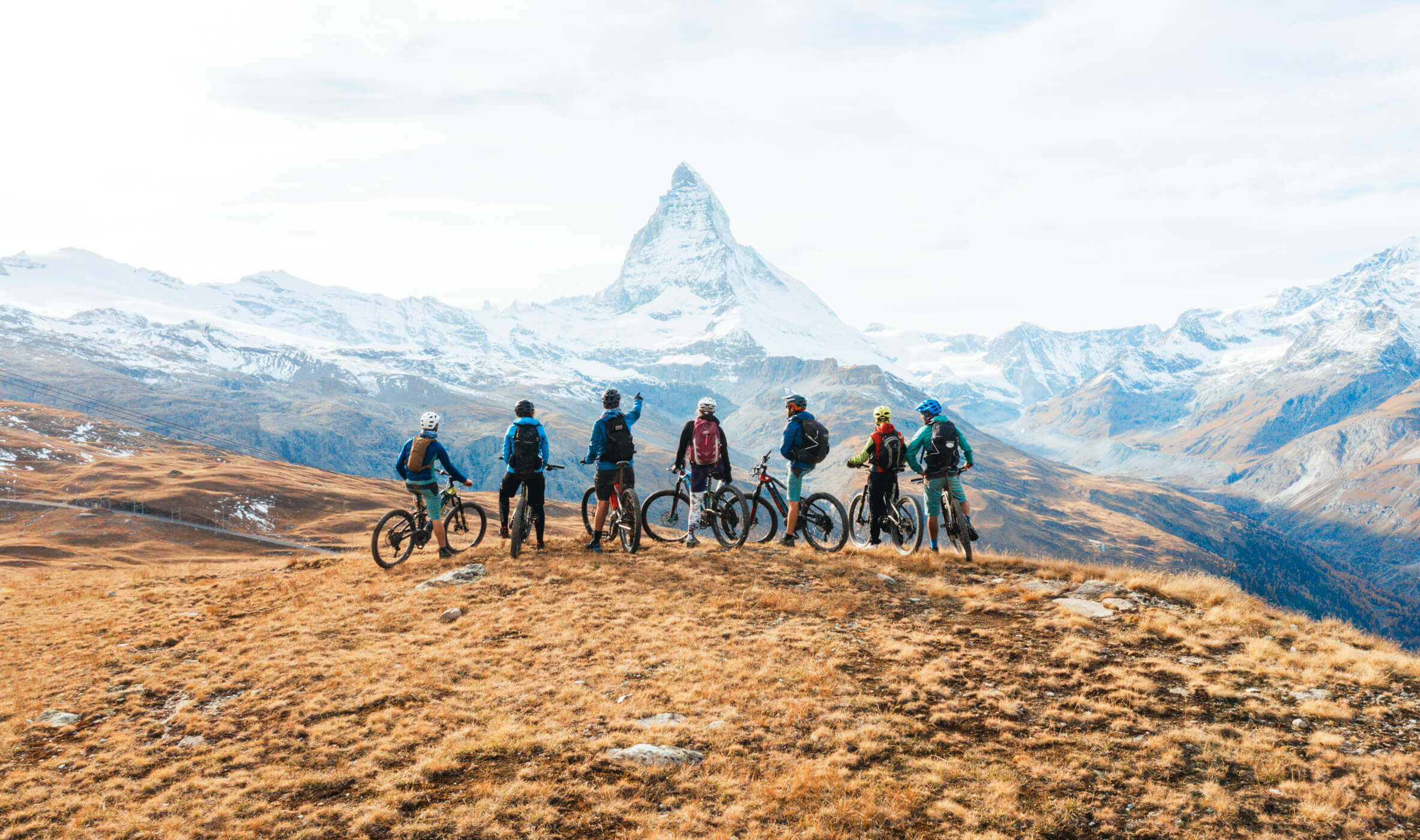 DAY 4: THE LAST COFFEE IN ZERMATT
The last coffee enjoying the traditional charms of Zermatt and it's time to say good-bye to a unique alpine adventure made for all!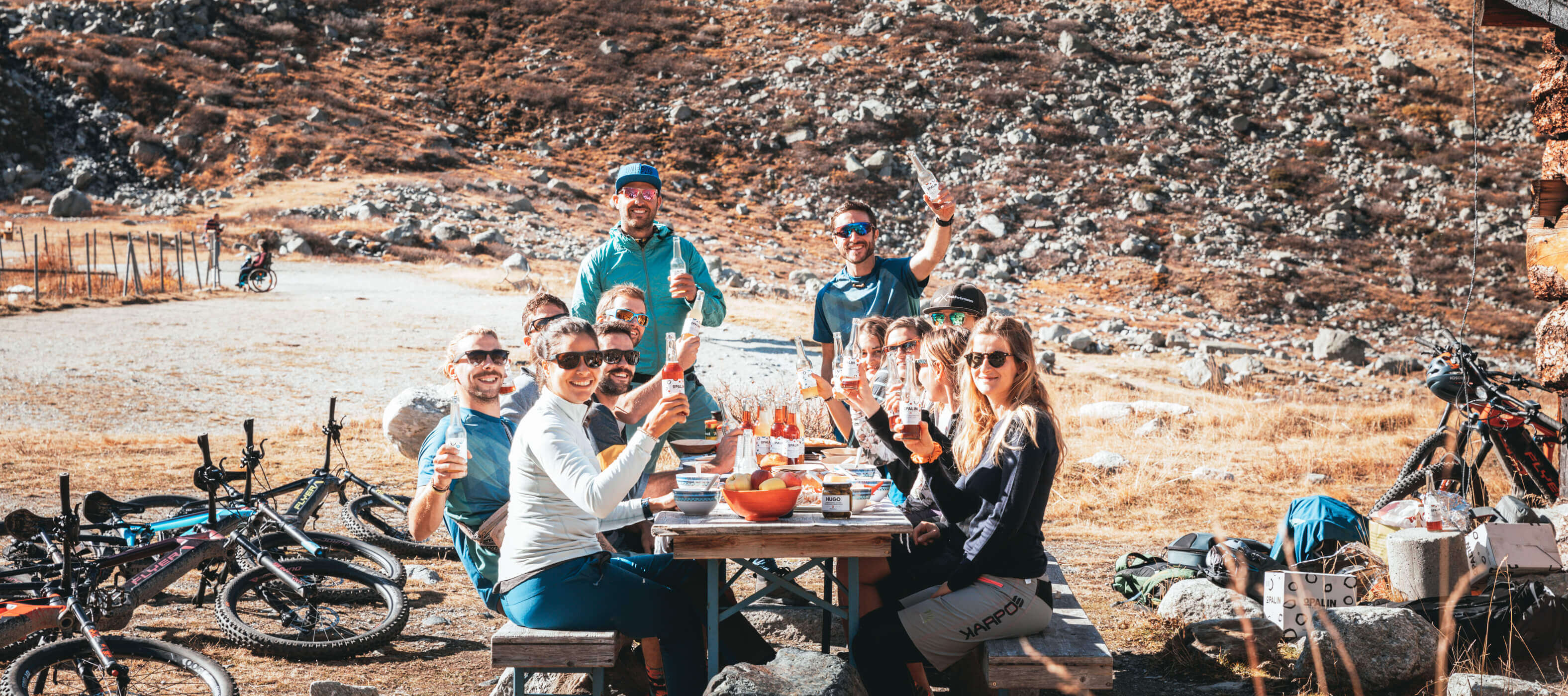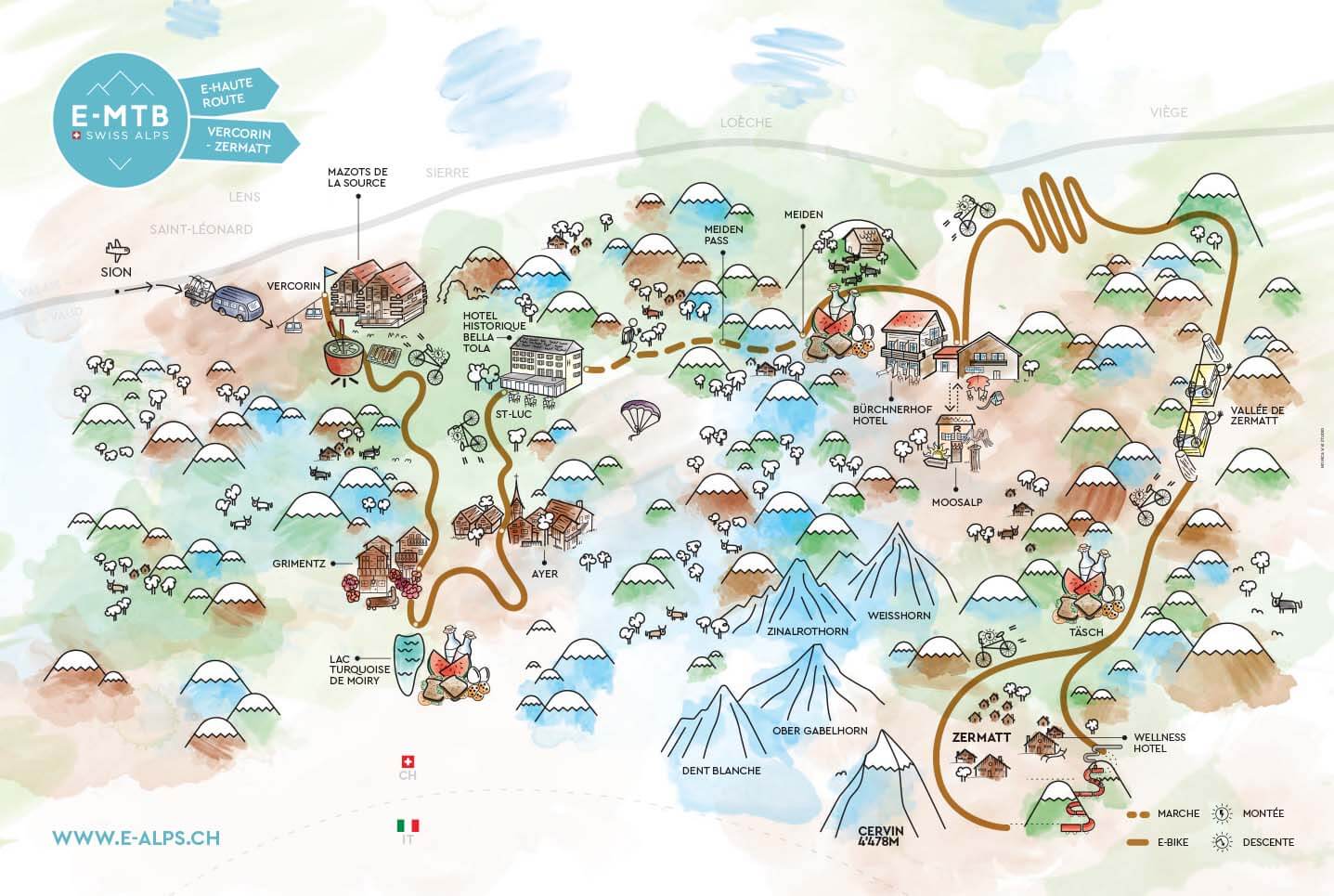 Dates

From 23 to 26 of June 2022
From 21 to 24 of July 2022
From 18 to 21 of August 2022
From 01 to 04 of September 2022
From 22 to 25 of September 2022
From 13 to 16 of October 2022

*Ready to go" are trips that already have multiple participants but the group is not complete. The departure is guaranteed.

Duration:
2 and a half days of ebike + half day of hiking, 3 nights
Joining us:
Chalais, Valais, Switzerland
Skill level:

2 fitness  / 1 technical

Type:
eBike
Cost:

2200.- CHF e-bike included / 2000.- CHF without e-bike

Number of riders:

10 riders